What is the difference between OLED, Super UHD and Quantum Dots?
Today the world of televisions and screens is very competitive, all users want more and better content, with higher quality, allowing you to live a true immersive experience when watching a movie for example and at the moment there are three technologies Which, with different characteristics, achieve that goal but … what is the difference between OLED, Super UHD and Quantum Dots ?
The trends in screens have changed and advanced too, images and multimedia content in general now require much more quality of image, either in televisions, mobile phones, tablets or computers, due to multiplatform production users want to be able to enjoy the same On any screen they choose regardless of their size.
The Power of OLED Technology
We begin by defining that OLED technology is a development of LG that is present in devices of other brands like Panasonic, Sony, Philips, among others. OLED technology is a self-luminous system, which is based on carbon-based semiconductors. It is not LCD, in fact it does not require backlight.
This technology directly emits red, green and blue light , ie RGB composite, purely and individually in each of the sub pixels. Its viewing angle is 180 degrees and its colors, brightness and contrasts are 100 percent pure.
An example of the quality of LG OLED TVs is its new Signature line in which is the famous TV Picture-on-wall, is a television as thin as a credit card and can afford it, since as explained before this Is a self-luminous technology and does not require any rear light projection.
Another example of LG's OLED displays may be its new flagship in the mobile segment, the LG G6 features a panel of the same quality and same technology, each semiconductor provides the colors that a specific graphic requires directly.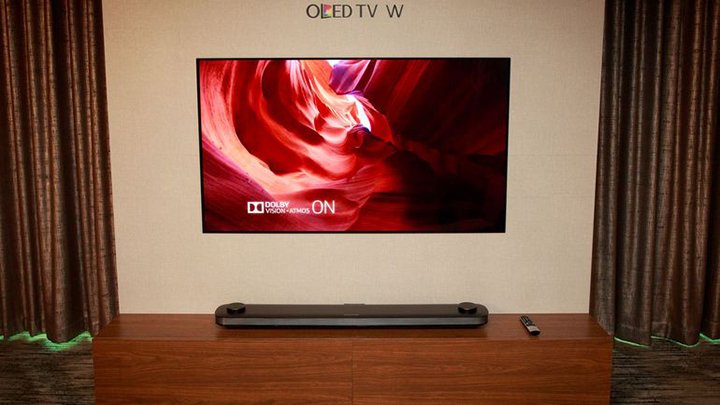 Super UHD
This is LG's proposal for those who like the LCD. The Super UHD uses a white backlight, using 1 nanometer nanocels to absorb the entire wavelength, excluding the red, green and blue colors of the RGB composite, which are projected on the screen.
The highlight of LG TVs that owns this technology is the Super UHD 4K – Nano Cell Display , which can be achieved up to 86 inches and offers a combination of up to 1 billion colors.
Panasonic also took advantage of this technology with its model 4K Ultra HD TC-58DX800 , which has its own development called 4K PRO Studio Master UHD for greater adjustments.
Samsung Quantum Dots
This technology looks and competes directly with Super UHD , as it is based on a blue backlit LCD system that projects a plastic sheet with an ejection of 3nm quantum dots that generate green light and 6nm to produce red light, That way the three basic colors.
Samsung implemented this technology in televisions as in its series QLED TV composed of three models that capture up to 100 percent of the color and the screen of its Samsung Galaxy S8.
Negative aspects of these technologies
However, not everything is perfect, since there are some negative aspects between OLED, Super UHD and Quantum Dots : in OLED the viewing angle is limited to 180 degrees because it does not have LCD, while in Super UHD the contrast increases The brightness and can become a bit uncomfortable for the view. Finally in the case of Quantum Dots produce excess light in the backlight panel, so there are light leaks in the sides affecting the viewing angles.