A photo confirmed the title of the new Assassin's Creed
There is no doubt that the title of the next Assassin's Creed will Origins. It will be set in Ancient Egypt and will have a capacity of more game than the last chapters
On Reddit it was published a picture that confirms the special version Gold Assassin's Creed Origins , the next installment in the popular series that is likely to be unveiled in final form next week at E3 in Los Angeles.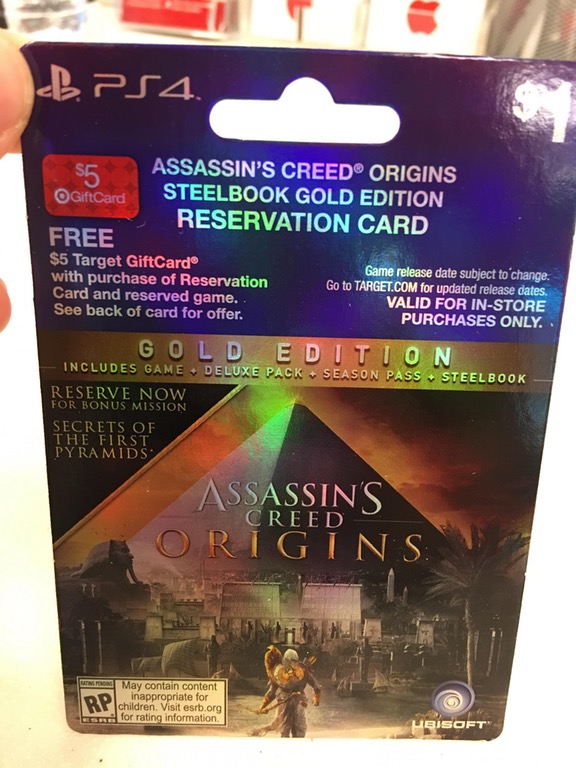 From the information previously emerged Assassin's Creed Origins will be set in ' Ancient Egypt and recount the origins of the guild of assassins as a lifeline for the people of Israel enslaved by the Egyptians. In the contextualized history in ancient Egypt there will be two main characters, a man and a woman, while a third protagonist will find in the modern world, where players will find a large map like that of the entire Assassin's Creed III.
Origins will be very different than in the past in the series, offering the playing characteristics and scope comparable to those of role-playing games with very large map as Skyrim . At least according to rumors, Ubisoft wants to reverse the trend that has led to the decline of the series first with Unity and then with Syndicate . Ubisoft would release too many chapters to extremely close range, but for Origins has taken the time to create a truly new product. In 2016, in fact, it was not released a chapter of the main series, as was the case in previous years.
Many typical playing characteristics of the series as the leaps of faith and the naval battles will not return in Origins. The exploration of the map will be different, while the boats will act simply by transport. The multiplayer portion will be reduced to the bone.
The project was entrusted to the study of Quebec Ubisoft, which has striven to live and believable game environments, able to accommodate popular stealth action on the strategic plan. The combat system typical of the series there will be still, and will remain possible to customize the equipment of the main characters.
The game should have three skill trees and bring the player to make choices about the progress of the characters, because you can not unlock all abilities.
Returning to the photo published on Reddit are deduced other details: first, that there will be a Season Pass . It is known as the Gold Edition is also included a DLC called "The Pyramids of raw intelligence" as well as the Steelbook. In addition, in the artwork you can see the protagonist of reinforced shield and bow , and accompanied by an ' eagle . They could all be clues about the new game mechanics.
We'll know more definitely at the Ubisoft E3 Conference , to be held on June 12, when Italy will be 22.