Instagram adds new masks – Instagram Latest Update
During the last year, there are multiple functionalities implemented by Instagram for the benefit of its users.Today we tell you latest instagram update that the most popular social network of images today has added new masks for its users to have fun. Then you will know all the details about it …
The masks added by Instagram are copied from the Snapchat filters , only they do not cover the entire face of the users. Previously it had added 8 filters that did not attract much attention, now has updated the range of masks available to be applied when users take a photo or record video.
Instagram continues to take ideas from the popular social network, Snapchat. After emulating the Snapchat Stories, Instagran now decides to release new masks. All of them are very funny, but less original than those of their rival.
They have various masks in Instagram Stories . With them you can create fun memes instantly. One of the animated masks is called "Like a Sir" in which we can disguise ourselves with a pipe, hat and a monocle.
Another of the masks is animated and disguises us as a puppy , very filter-style originally created by Snapchat in which we can have ears and dog's snout, additionally if we open our mouths and raise our eyebrows, our image turned into a puppy lifts the ears.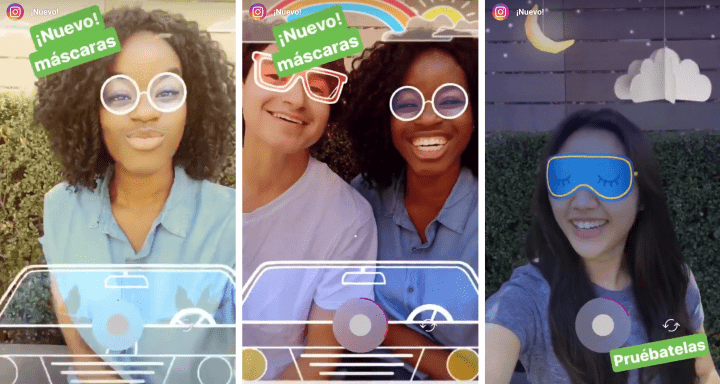 The most recently added masks are a sleeping mask with a starry sky, a moon and a cloud, and also the filter of an automobile in which you can put on some very nice glasses when you drive it.
Note that you can enjoy these fun masks automatically in your Instagram Stories , that is, you do not need to update the application. The masks work as follows: you enter the camera of the application and select the button corresponding to this function, with face shape with stars around it.
The new masks added by Instagram are ideal for all those users who want to fill up with fun their photos and videos that they share with their followers through Instagram Stories.